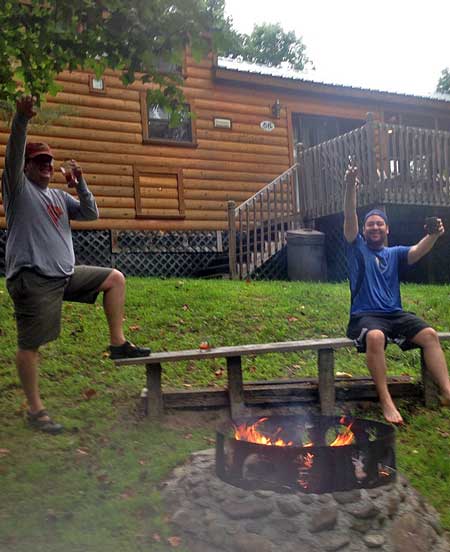 Sugar Hollow Retreat: Rustic Bed & Breakfast, cabins, and houses for rent in Butler, Tennessee.
At Your Wits End Cabin Rentals: Great selection of Cabins for rent in the Boone / Blowing Rock area.
Blue Ridge For Rent: 100+ Cabin Rentals
HomeAway: FOUR SECLUDED ACRES – Authentic Hand-Hewn Log Cabin, South Fork of New River. Ask them about a $75 ECO fishing discount with stay at this cabin.
Hemlock Inn: A great place to stay in the mountains, conveniently located in Blowing Rock, NC. Get a 10% DISCOUNT off your stay if you're fishing with Elk Creek Outfitters.
Bee Cliff Cabins: on the Watauga River in Elizabethton, TN.
Hideaway Cabin: Rental House on 10 Acres in Banner Elk. 6 Bedrooms, 4 Baths, Sleeps 16 to 18.
High Country Host is a great resource for all there is to do in the High Country.
Iron Mountain Inn: Log Structure Bed & Breakfast in Butler, TN.
Cabins of Sugar Grove: For a great secluded mountain getaway.
Holiday Inn Express in Boone greets you each day with exquisite and spectacular views. Recipient of the 2003 Development Award and 2004 Quality Excellence Award.
Meredith Valley Cabins All the ingredients you need for a truly memorable vacation, such as a complete kitchen, privacy, peaceful views and more! Our location on the Watauga River puts you close to trophy trout fishing, canoeing/kayaking, or just relaxing by the water's edge.
Americourt in Elizebethton, Tennessee
River View Cottage, operated by Mary and Jerry Young, located on the New River in Independence, VA; 276-773-2759
Grayson Inn in Independence, Virginia; 276-773-3313
Waters Edge – Mountain Lake Home: Watauga Lake; 941-720-8113
Watauga River Cabins: secluded on the banks of the "quality trout zone" in Johnson City, Tennessee